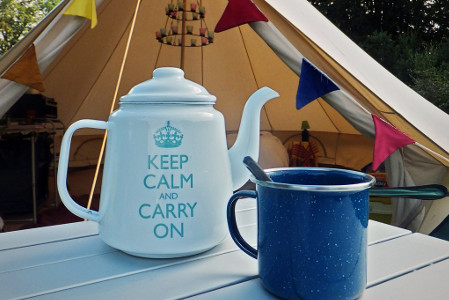 Potential Income for Renting your Pod
For those of you who are looking at camping pods to buy for a potential business then naturally you want to ensure that you will be getting a good return on your investment when it comes to renting your camping pod out.
More Happy Campers
Statistics from the 2012 Great British tourism survey showed that spending from domestic GB residents was up 5% on camping and caravanning trips compared to 2010, and overall bednights up 2%.
With a combined increase in the domestic camping market, alongside the growing fascination with glamping, camping pods provide a seamless experience between the two markets offering people something which is both different and more dependable when it comes to famous British weather.
By being able to offer insulated accommodation free from the worst of our climate means that the traditional camping season can be extended. Buying a camping pod provides the ideal accommodation in those Spring and Autumn months which wouldn't traditionally be suitable for people looking to camp but still want to enjoy a holiday or short break outdoors.
This not only helps camp site owners by bringing in extra income during the traditionally quieter times of the year. Buying a camping pod also reduces the pressure on the high season so that if a half term or bank holiday weekend is a wash out, a site will always have another form of accommodation that could be bringing in income where traditional camping can't.
Camping Pod Income
To give you an idea of the potential income you can generate from a camping pod, we've been through the prices of over 90 camping pod rentals from across the UK.
So, how much can you rent your camping pod out for?
Average price per night | Low Season:
Average price per night | High Season:
The above figures are rounded. The average low season price per night came in at £42.89, and the average high season price came in slightly higher at £48.84 per night.
The figures above shows the prices for camping pods during the 2014 season. The rates mentioned are the standard base price for renting a pod for each night and don't include any special offers or additional costs which are sometimes listed out separately (such as fees for booking, dogs or electrical hook ups). 
Most camping pod providers offered more than one camping pod on site in two different sizes. The first standard pod option normally sleeps two adults and a small child, whilst a larger 'family' pod could sleep a combination of 2 adults and 3 children, or 4 adults.
We located six camping pods which were rented out for £75.00 or above during the high season.
These pods were aimed squarely at the luxury end of the market offering comfortable double beds, flatscreen TV's and including breakfast as part of the price. To give you an idea of the quality of these pods (and possibly some inspiration for design have a look at Fleur's Retreat based in Devon).
The cheapest pods we came across were available midweek from £25.00 per night but guests were required to bring along all their own camping equipment.
The ROI on a Pod
Based on the chart below we've listed how many nights the pod would need to be booked out for in order to recoup the original purchase costs of £4,000, £6,000 and £8,000. Even with the more expensive camping option and a lower price per night, it would not take long to generate a return on your investment.
| Booking Price per night | Pod Price: £4,000 | Pod Price: £6,000 | Pod Price: £8,000 |
| --- | --- | --- | --- |
| £40.00 per night | 100 nights | 150 nights | 200 nights |
| £45.00 per night | 89 nights | 134 nights | 178 nights |
| £50.00 per night | 80 nights | 120 nights | 160 nights |
*For guidance purposes only. 
The Future of your Pod
Aside from the costs of regular annual maintenance, cleaning and utility costs for your camping pod the biggest advantage to buying a camping pod is their lifespan.
Traditionally, you might be looking anywhere upwards of 20 years before a camping pod roof needs replacing, (assuming it is well maintained). This means that after the initial upfront costs, as well as ongoing maintenance any other income which you generate from it is purely profit. Some of this could then go towards purchasing new camping pods for your site!
Cropped & resized image – credit to Donna Tomlinson | cc