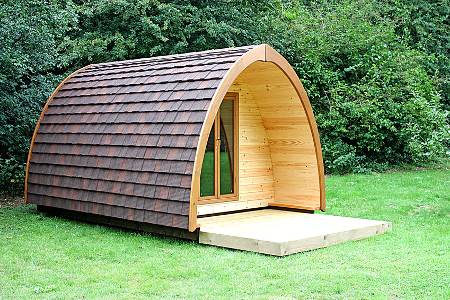 Next Steps for Renting Out Your Camping Pod
After making all the important decisions about construction, delivery and furnishing your pod now comes the next step.
How do you actually let people know that your camping pod is ready to rent?
Photography
Any potential guests who are keen on booking a camping pod will naturally want to see what it looks like beforehand. So make sure you have at least 10 good quality images that shows the interior, exterior and surrounding areas of your camping pod.
Have the images taken in good weather and if you have the budget it's often worth hiring a professional photographer for a day to take the shots. This way your camping pods look their absolute best and can really sell themselves to people who are thinking of staying.
Pod Particulars
It might seem obvious but draw up a list of your pods details which will be used in any advertising. It's surprising how often key details are left out. Put yourself in your customers shoes – what is the most important information they would want to know? Items to include:
Prices & availability
How many does it sleep?
Facilities
Do you accept dogs?
Can you use them to camp in the winter?
Payment methods
Contact details
Online Promotion
Making sure your camping pods have an online presence is absolutely essential. With a potentially huge audience of people who could be looking at your camping pods, there are a whole host of different things you could be doing to promote your pods online.
If you haven't got one already it's worth in setting up your own website to promote your pods. If you already have a website then make sure you add a new page telling prospective customers about your new accommodation.
If you need a new site there are plenty of local website companies across the UK who can build you a professional and functional website. Just make sure the site is responsive (which means it will fit into any sized screen). With the growth in people using tablets and mobile devices to access information it's essential that your website can be easily viewed by people not using a traditional desktop computer.
Online Advertising
Online portals such as Pitchup.com can immediately put your camping pod in front of tens of thousands of people looking for a camping holiday. They even currently offer a free listing on their website to promote yourself. Alternative sites to look at are Alastair Sawdays 'Canopy and Stars' if you have a more luxurious camping pod. If you also meet the criteria you could look at registering with the Camping and Caravanning Club by becoming a certified site and so put yourself in front of a large audience of dedicated campers.
Another important source is local and regional websites which promote your local area. Whether they are national parks or regional tourism websites many have areas to list accommodation either on a subscription basis or by taking a commission from bookings made on the site.
As time goes by there are more and more different ways you'll learn about that you could use to promote your pods. Maybe you could establish a listing on TripAdvisor, or start using social media sites such as Twitter and Facebook to engage with potential customers.
Repeat Bookings
As the seasons pass you'll hopefully build up a dedicated group of campers who will return year after year, or at the very least tell their family and friends about you camping pods. In order to foster this relationship with them consider keeping in contact with them or offering discounts for referrals or return bookings to encourage loyalty.
As time goes by you'll build up a much better understanding of what works and what doesn't, so over time you can get a better feel for things and bring in more and more bookings for your pods throughout the year.