Looking for Camping Pods for sale?
Welcome to The Camping Pods, the site with pods for sale and plenty of information for anyone looking for to buy their very own pod.
If you're looking to make some extra space in your home, or you're searching for a new way to generate some income, then looking for a camping pod for sale is the perfect answer.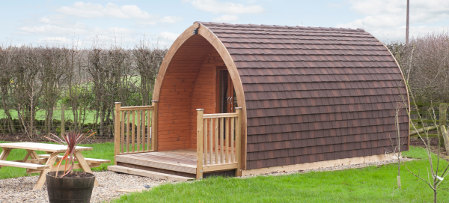 Looking for your next happy campers? Whether you already own a camping and caravanning site, or just want to bring in some money from unwanted farmland, camping pods provide a brilliant way to diversify your income outside of the main holiday seasons and keep attracting bookings no matter what the British weather can throw at your guests.
Plus once your camping pod is delivered you can make it as basic or as luxurious as you like – tailoring it exclusively to the market you want to target, from short stay walkers to long term glampers.
Looking to bring the outside in? With the growing need for extra room for kids (and big kids) in your home a camping pod can be a perfect alternative to adding some much needed extra space. There is a fine line between traditional camping pods, glamping pods, eco pods or whatever you care to call them you can ensure they all provide one thing – the perfect bespoke space for you and your family.
You don't even have to camp in a camping pod! Whether you're looking for somewhere away from the house for an office, playroom, garden studio, yoga retreat or den, installing a camping pod could be the perfect solution.
The information included here will hopefully be the ideal start for everything you need to get your dream camping pod started. From the prices you can expect to pay, to planning permission information and what to think of before you order – for whatever you need if you are looking for a camping pod to buy then we hope this can help.