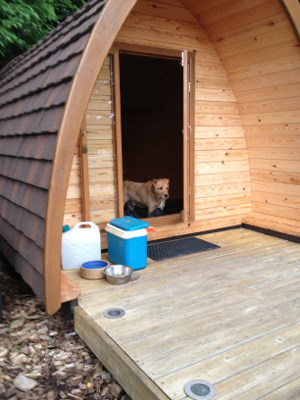 When it comes to buying a camping pod most of the focus is placed on the construction and delivery. But what you include inside your pod once it's in place is just as important.
If you're planning on renting out your pod to paying guests then what you include (or exclude) can have a real impact on the type of camper you attract and how much money you can charge for each night's rental.
So, here's an overview of the things that you could consider when buying camping pods for your business:
Essentials
Starting with the most essential parts for any pod you'll need to check with your manufacturer that your pod is delivered with doors, windows, and flooring to make the pod habitable.
Next is heating and lighting. For this you'll need an electrical supply which means a hook up to a local electric point or potentially the installation of solar panels. Most people tend to opt for LED light bulbs and although most camping pods are well insulated an electric radiator is useful – especially in the colder weather.
Sleeping Arrangements
Often pod owners choose to leave their pods 'empty' so from this point you can consider letting out your pod to campers who are happy to bring their own sleeping bags, roll mats and/or camp beds.
If you are planning on including beds in your camping pods you'll need to decide on the size of the bed and mattress as well as if you want to provide bedding to your guests. If you do plan on including bedding  consider buying a 'zip and link' bed which allows guests to sleep in a bed which can be made into either a double or a twin. It allows for much greater flexibility from different groups of people when it comes to sleeping arrangements. Hypo-allergenic pillows are also useful to include to avoid potential allergies.
Dogs
Most camping pod owners do welcome dogs to stay in the pods although an additional charge is often made. If you are thinking of allowing dogs then you'll need to decide on what extra items to include such as food bowls, a sleeping mat and bags for waste. Alternatively, some sites even have mini-camping pods constructed next to their camping pods just for the dogs to stay in!
Indoors
Inside your pod you can make it as basic or as luxurious as you like. Having an area for storing bags and clothes is always useful but from there flat screen TV's, mirrors, sofa beds and tea and coffee making facilities could all be added. A decision will also need to be made as to provide towels for your guests, which will increase your bills for the costs to cover laundry.
Outside Facilities
Most camping pods have an area of decking or patio outside the front of the pod so your guests can enjoy meals and relax when the weather is good. Alongside this it is worth including a set of table and chairs for the number of guests in your pod, a parasol, lanterns for the evening and a barbecue for outdoor meals.
Other Ideas
To make your guests stay in a camping pod even more of an experience you could also include:
Heavy duty beanbags for indoor and outdoor fun for the kids.
A pack of local brochures and guides for places to visit in the local area.
Spare torches for getting around at night.
Kid's plastic crockery if you are planning on catering for families with youngsters.
A cool box if your guests are planning a picnic off-site; always handy during the summer months.
Kitchen & Bathroom
If your pod is going to have a kitchen which guests can use then you'll need to include the necessary extras such as cutlery, plates, pots and dishes for your guests. Including other items such as foil, washing up liquid, cling film, kitchen roll, sandwich bags and skewers for barbecues are always useful too.
Most camping pods have a shared bathroom facilities nearby. As well as the cleaning products for keeping everything hygienic, you'll need to stock up on hand soap, hand towels/hand dryers and toilet roll.
Need More Inspiration?
If you need some more ideas for how to furnish your pod for guests then have a look through the advertisements from other camping pod owners here.
Resized image credit to
Simon James
 |
cc